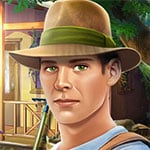 Summer Camping Game: When it comes to camping, one of its amazing benefits is the stress relief. In general, being in the nature can and usually will relieve stress. Camping season is just a few calendar pages away. And outdoor enthusiasts are looking forward to peace of mind and quality time relaxing.
In Summer Camping Game: Mark decided that the best way for him to relax is to go on a camping trip. He really wants to say goodbye to his cellphone and email, his watch and his daily life. He loved camping when he was a kid. But his everyday tasks and obligations stopped him from going as often as he used to. A perfect weather on the forecast this weekend is just what he needed to pack his tent and explore the outdoors.
He picked up a spot in a state park, in a national forest and near a fishing lake. It is ideal to enjoy some rest with a view of the nature and mountains all around. Now he needs our help to prepare the campsite and to set up his tent in order to enjoy the long weekend and relax. It's time to unpack his thing and get down to work. Enjoy and have fun in playing Summer Camping Game.