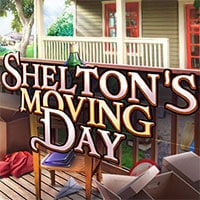 Shelton's Moving Day Game: Moving can be an exciting time in our lives. Alongside a new place, a fresh start and something exciting to look forward to, we could all do with a career overhaul. That's the plan, right? Or, moving can be a very stressful event. In the best case scenario, moving to a new place can open our minds and the world. Bring new friends, adventures and make you feel freer and more alive. In the worst case, moving may be a good lesson.
The Shelton's are facing a big challenge in Shelton's Moving Day Game:
They just bought a new house. Buying this house, they are full of hope that this would be their living place for a long period of time. They love the place, the neighborhood seems just fine and the house is amazing. So they believe that they would spend many happy moments there. But now they have to move to their new neighborhood. Just because they're moving to a new place, doesn't mean that their friends, relatives and neighbors don't deserve a little moving courtesy. Most of us don't mean to forget how our move impacts the relationships we have with others ; it's just that we may be unaware of our move's effect.
They decide to ask their friends, relatives and neighbors to help them. And make sure they say a proper goodbye to those they are closest to. The moving day has come and all their closest friends, neighbors and relatives are gathered to help them move. It is a nice way to say goodbye. We guess it would be rather nice if you could help them all with the moving. Help them by assessing what kind of help is needed. And offering the kind of aid that makes the best use of your own skills, talents and patience. Make sure everything goes fine, so the Shelton`s won't have any problem moving to their new home. Be a good mover and help them haul their stuff.