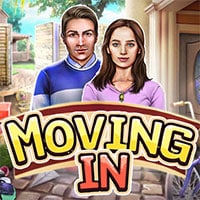 Moving In. Moving in together is such a big thing. From one side we have two people who have decided to live together, which could be rather complicated sometimes, but on the other hand there is always a chance that the new place might not be the best option. Maybe its location isn't what it seemed to be, maybe you need a bigger or smaller apartment or you don't like the neighborhood that much but once the choice is made, people are not that willing to o through the same procedure once again and simply sell the place. In this point, the adaptation is the most important issue that will lead to a comfortable and satisfying life.
Alice and Adam just bought a house. Buying this house, they are full of hope that this would be their living place for a long period of time. They love the location, the neighborhood seems just fine and the house is amazing, so they believe that they would spend numerous happy moments there.
This couple bought the house from an elderly couple and now they want to prepare the house for moving in. In the house there are many objects that Alice and Adam won't use in the future so their friends came to help them get rid of those things. We guess it would be rather nice if you could help them all prepare the house for the new owners. Make sure everything goes fine, so Alice and Adam won't have any problem while moving in.