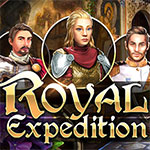 Royal Expedition Game: We are offering you some adventure for today. It is weekend time, why not do some interesting thing for today. All the kingdoms and royal families hide some secrets, people that live here adore to whisper in the lobbies, gossip about the royal members. That is the usual activity that people here do, maybe they are boring and don't know what else to do.
And, when death comes on board on some of the royal members that the chance for more problems to appear are already here. That king or queen surely has some hidden treasure, has some great secrets that wants to bear with him. Such king we bring you in today game. We talk about dead king Gary who gave headaches to his royal expedition.
The Knight George, his faithful escort Amanda and the Prince Edward are three members of the royal expedition which goal is to explore the castle of the dead king Gary. They need to find out what are all the wealthy things they can find in his castle. They have conquered this castle few months ago. No one says that having the throne is an easy thing or gaining it is easy thing. It gives you headache, but the pleasure is sure on square. So enjoy and have fun in playing Royal Expedition Game.