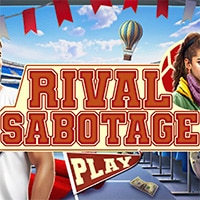 Rival Sabotage Game: Richard's team has a big and serious task ahead of them. The biggest derby game of the round is set to take place this weekend. But Richard, the home team coach, notices something strange in his team's dressing room. Some important items that belonged to his team members were stolen. Richard suspects that people from the opposing team came into the locker room last night and hid his players' important items. If this is true, it would be a serious offense and an attempt to sabotage his team.
In Rival Sabotage Game: Jennifer is a big fan of Richard's club and decides to help him solve this mystery. Who could be behind it? Were the members of the opposing team willing to do something so sneaky? This is not in keeping with sportsmanship. This is something that must be solved and the ones responsible for that should bear the consequences. Let's see how Richard and Jennifer will handle the whole situation. And if this unfortunate event will affect the success of the team. You can play Rival Sabotage game on all devices. So enjoy and have fun.
Also make sure to check Rail Sabotage Game, you may enjoy playing it.