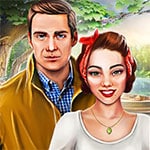 Picnic with Friends Game: Don't ever forget to spend time outside, somewhere on a mountain, out there far away from the big cities, from the noise and the crowd. You will be experienced with marvelous feelings, be full of energy. Think of all the good and bad things that bother you, that give you hard time. Being up there with nice people, or pretty well chosen company, you will have unforgettable time.
From time to time we need to escape the everyday life and let our self be free. So forget the mobile phones, forget all the tablets and gadgets, simply 'get lost' somewhere else. Jessica and John, together with their friends have decided to go on picnic on a meadow located next to a small lake.
Now they are trying to get prepared for their picnic can begin. This sounds like a nice occasion. We think that for today we are not giving you too much difficult task. Imagine that you and your friends are preparing yourself for such a day, and think of what are the things you will need for that beautiful day. Maybe this game will inspire you to do a picnic, ah? So enjoy and have fun in playing Picnic with Friends Game.