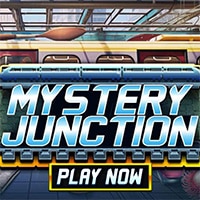 Mystery Junction Game: The old train station has always been a bit of a scary place. Not that something terrible happened there, but with the fact that many people pass by every day, we can't know what they are like, hence the fear that we might encounter some undesirable people. Detective Edward arrives at the old train station in Mystery Junction Game. Recently, many mysterious events have been happening at this station. Missing luggage is often reported, and passengers disappear, but the scariest of all is the appearance of ghosts at night. They are the ones who scare the travelers and passersby.
People who travel are worried and want these mysteries to be solved as soon as possible so that they can use the rail traffic again without worry. If you dare to face these strange phenomena that occur at the train station, let's investigate what is happening there with Detective Edward. Our investigation does not rule out encounters with ghosts and other mysterious happenings, so let's be brave and investigate together. You can play Mystery Junction Game on all devices. So enjoy and have fun.
Also make sure to check Ticket to Mystery Game, you may enjoy playing it.