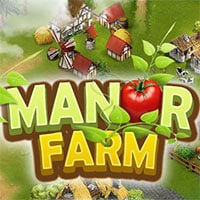 Manor Farm. If you don't dream big, you won't get far. Those who take big steps, they have the chance to feel very often, but have bigger chances to achieve their goal, much more than the others who won't even try to make a step. No matter what is your profile, and vocation, professionalism always pays back.
There comes a time when we want to grow bigger and then we have to put more effort to do that. Very often, money is needed for that, but much often – it is the vision and courage. Such persons we have in today's game. Amanda is the lady of the day. She is a hardworking farming woman that grew up in a small village. She learned everything she knows from her parents. But, the new time looks for new challenges. Amanda lives on her small and old farm. She dreams of renovating her farm and to make it better, more functional. But, she can't do that without having enough money. And, unfortunately, she doesn't have the adequate sum to realize her project. But, here we come on board.
We can help her build the perfect place where she can raise horses breeds. The more hidden objects we will find, the more money we are going to earn. Exactly with those monies we can buy new equipment for the farm. Can you imagine Amanda's face, what she is going to look like when we are going to realize that mission. That would be worth it, wouldn't it?