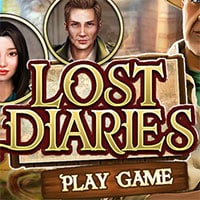 Lost Diaries Game: Imagine coming to a jungle, walking through its tangles and messy vegetation and stumbling across one of the most important castles in the world. When you do this, you have found the lost castle. Today we join a fearless young explorer as he encounters the terrain and stumbles on something unknown.
Kevin arrives in the jungle where one of the most important castles of the world is located. Almost nothing known about this place, as all the adventurers who have found this castle have not returned from there to be able to tell its story. For years people were mooching around the building site, but simply no one ever left the site afterwards.
But, they all left clues on their days there. They were writing handwritten notes in their diaries. The diarists were simply who had lived, and then died. Arranged on a day-to-day basis, these diaries extract from a patchwork quilt of events. Kevin's goal is to find the diaries of these adventurers and to clear what really happened while they were there. But, they are well hidden and he needs our help. Enjoy and have fun in playing Lost Diaries Game.