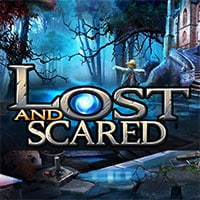 Lost and Scared Game: Yes, we can't predict everything that will happen to us when we leave our home, or when we want to come back home… That is the situation with Steven as well. This man found himself on a wrong route under completely paranormal circumstances, totally unexpected. He was on his way home when strong light lightened the sky and all of a sudden he found himself on a completely unknown place. He tried to find his path but it seemed as he is a completely mysterious place. The only thing that he found on his way was an old abandoned house. He felt scared because this house looked rather mysterious as well but it was his only choice in the situation.
No matter how strange it is. But Steven decided to enter into the house, still hoping that the house will provide him certain answers. However, it appears that the house is actually full of ghosts and those ghosts may not be friendly ghosts…
Since it is about a very delicate situation, we hope that you will help Steven deal with it. He would feel less scared if he has a companion in those unfamiliar circumstances. Someone who will keep his back safe and help him find something that will help him deal with those ghosts that rule this abandoned house. You can play Lost and Scared game on all devices. So enjoy and have fun.