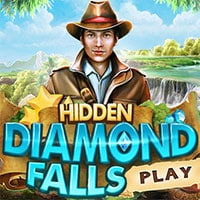 Hidden Diamond Falls Game: Meet this exceptional person, Tom. He is an adventurer whose mission is to travel around the world. His curiosity and his profession unite in the urge to explore unexplored places so he has visited numerous unknown places. He has also met so many different cultures that have been hidden from us for numerous years and knows about the humanity in general, more than the most of us.
Tom has recently discovered a new place not many people know about. That is rather true because if more people knew about it, it would be ruined by now. Believe it or not, the biggest amount of pure gold and diamonds are located there and they are still here. That means that big corporations are still not aware of this treasure and they haven't reach it yet.
Besides this gold and diamonds, Tom has also found a small tribe there. Those people don't know anything about the work of the big corporations and they are not aware that their place of living could be destroyed and turned into a mine. The corporations won't worry about the people since they will concentrate on the treasure so it would be better if those people learn how to take care of themselves before anything happens. Tom has a new mission in front of himself. He wants to teach the members how to process the gold and the diamonds, so that the big corporations don't take them. Let's help Tom do his job and help those people keep what they have. You can play Hidden Diamond Falls game on all devices. So enjoy and have fun.