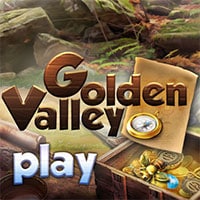 Golden Valley Game: The California Gold Rush started many years ago, on January 24, 1848. On that day certain James W. Marshall found gold at Sutter's Mill in Coloma, California. This was information that brought about 300,000 people to California, coming from other parts of the United States and abroad. At the beginning of the Gold Rush, there wasn't a law on the topic of the property rights in the goldfields. The prospectors regained the gold from streams and riverbeds with easy techniques, like panning. Even though the mining made environmental harm. More refined methods of gold recovery were found out and afterward adopted around the world.
Based on the legends that he has heard before, Alan believes that he will find the legendary Golden Valley. That is the exact place where the golden fever started in the past. In that period numerous settlers came into America, dreaming that they will find a huge amount of gold. And will become rich in a short period of time. And yes, many of them did and it is not for sure how much old is there left, if there is any. Alan has a certain premonition about the whole thing. And he hopes that if he passes the river on the same place where his settles- gold diggers did, that he will also find gold and diamonds. Let's see what this interesting adventure will bring us.
Also make sure to check Valley of the Damned Game, you may enjoy playing it.