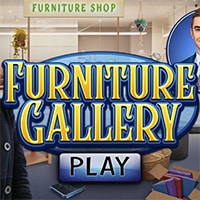 Furniture Gallery Game: Working with furniture is a very subtle thing. Those who deal with interior design make the pieces of furniture according to some of their criteria, respecting statics, purpose, trends, and their taste, also respecting the taste of the market. And after a piece of furniture is made with quality, the next step is its placement. Marketing is very important, but direct sales are also important, so those who sell this furniture face a responsible job.
In Furniture Gallery Game: Betty and Larry are the new employees of their town's elite furniture store. It is a store that attracts attention with its appearance and the unique models that are sold here. Today in Furniture Gallery Game is their first day at work, and they must complete all the tasks that the owner of the store will give them. Since they are both new here, surely our help would be welcome. Let's visit the new luxury furniture showroom and help Betty and Larry with their work tasks. You can play Furniture Gallery Game on all devices. So enjoy and have fun.
Also make sure to check Mysterious Bookstore Game and The Little Store Game. You may enjoy playing them.