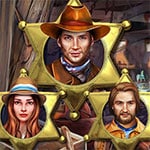 Fistful of Gold Game: Get a taste of the gold fever that hit a small city in the west of the country. At this stage, the gold output in this city is greater than in almost any other country in the world. Miners arrive in the thousands, with townships popping up overnight and the riches laying the foundations for the town's future. The truth is, there are still tons of gold out there waiting to be found by prospectors, but you have to know how to find it.
The trapper Henry, the cowboy John and his wife Lisa got together based on a common interest – gold, and a lot of it. Today they arrive in this small mining city. It is unique among other gold mining cities. Miners are still pulling gold out of the surrounding rivers and creeks. So our three friends think they can pull out gold as well and get rich.
There are few other hobbies where you can have fun outdoors and potentially make money at the same time. Most prospectors depend on luck, rather than skills and knowledge to find gold. But, our friends are persistent and they are here with one purpose only. To find as much more gold as possible. Enjoy and have fun in playing Fistful of Gold Game.