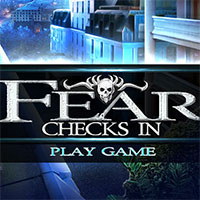 Fear Checks In Game: Kimberly and William really love adventures. Both of them have traveled a lot and visited places that seemed to be quite scary and risky to be there but they simple liked the trill that those places brought in. However, everything has its limits and it goes for the adventurist spirit of those two.
Kimberly and William are part of a group that stays in the hotel 'Twilight'. They arrived at the hotel and this is their first night there. Everything seemed normal but very soon all guests in the hotel were awakened by a certain strange noise. This noise appeared from time to time and it sounded just like a fight between two people. The people in the hotel started wondering from where this sound comes from and who could be arguing in the middle of the night?! Kimberly and William, together with the other guests in the hotel, started to organize themselves in groups in order to see what is going on. Everything becomes even stranger when they realize that that there is no one in the hotel except them. The stuff wasn't there which the fear to 'check in' deep in all guests.
Those people are really scared but they have to be really effective in their acts because no one knows what could actually happen in this situation. The investigation is about to begin so those people will really appreciate if you could help them to settle down. You can play Fear Checks In game on all devices. So enjoy and have fun.
Also make sure to check Dressed in Fear Game, you may enjoy playing it.