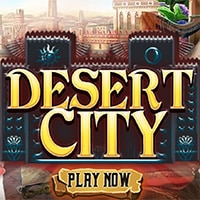 Desert City Game: Do you sometimes feel that you are determined for big things? That you are or you can do more than you have at this moment? Well, that's how young Ibrahim felt his whole life. Raised by а shepherd, he lived in a small village his whole life. He was satisfied with his life so far. But somewhere deep inside, he believed that there was something more for him; that something bigger is expecting him in the future. This thought has taken Ibrahim to the big desert city. He hardly waits to explore the big city and find out what is hidden there, what this city offers.
He believes that his origin is precisely from the big city and actually that was the first thought that has taken him here, intending to find out something more about his origins. His intention is very serious, and at the same time very demanding, because he will have to give a lot of effort to find out the truth about himself. But he believes that it is something worth trying. Let's see how will Ibrahim face this challenge and whether he will find the truth about himself. You can play Desert City Game on all devices. So enjoy and have fun.
Also make sure to check Desert Explorer Game, you may enjoy playing it.