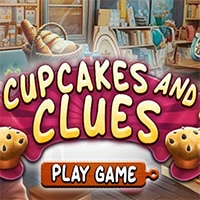 Cupcakes and Clues Game: Donna and Mark have run their own family business for years. They have a bakery that has maintained a good reputation over the years, a bakery with its tradition and countless customers of all generations who come regularly to buy wonderful pastries. However, time passes, and Donna and Mark are no longer in their prime. They are already elderly and cannot run their family bakery as before. For them, there comes a time when work should be replaced with pleasure, travel, and even more self-care, but on the other hand, they don't want to give up their bakery either.
In Cupcakes and Clues Game: Donna and Mark decide to try to keep the bakery running but have their grandchildren take care of it. However, even though they are their relatives, there is no guarantee they will know how to run the business well. That's why they decided to make a test to evaluate which of their grandchildren would be their best replacement. And who would continue to run the family bakery. This test will involve a series of challenges and will be interesting to watch. Let's see what tasks Donna and Mark will give their grandchildren. You can play Cupcakes and Clues Game on all devices. So enjoy and have fun.
Also make sure to check Cooking by the Book Game, you may enjoy playing it.