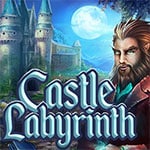 Castle Labyrinth Game: What about some mystery for today? Imagine you are somewhere in a middle of a trouble and you don't know what direction you should catch, where to go? You want to go home and simply can't get out of it. It is humans' thing to find clues, decisions and exits if you want to find the right way. So, for today we give you some mystery time. Imagine that those very much filmed personalities werewolves really exist and try to make problems to you.
Don't be scared to act, this is still just a game, and put yourself in the shoes of a voyager who has to find the way home. Our player arrives in the werewolf's castle. This castle is made so that you can't exit easily from it. The passages are kind of labyrinths and you can get lost easily in it.
The werewolf poses few tasks and riddles to our player. Our dearest player will have to answer all of the tasks if he wants to escape this castle labyrinth. Now, concentrate well, think that you are in a bad situation and need to find the needed answers so you can safe your life from the werewolf. So enjoy and have fun in playing Castle Labyrinth Game.