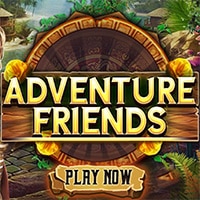 In this game: Barbara, Susan, and Steven are three best friends who love adventure. Visiting new places, meeting new people and revealing mysteries. Exploring things that seem to be unreachable, are part of their "to do" list. One of their best interests is exploring the forests and searching for new landscapes and there are many of them. Yes, those places seem to be unlimited space that hides numerous things that wait to be explored. Today in Adventure Friends Game, Barbara, Susan, and Steven come to one abandoned fishing village. The place looks wonderful, it is small and idyllic. But also it hides a lot of valuable objects, worth to be explored.
The three friends will take this challenge with great pleasure, and they hardly wait to start their new adventure in the fishing village. Let's check out together what is hiding deep in the woods. The three adventure friends might find beautiful landscapes but also they could get into trouble right? Let's be there, beside them, and follow them in case they need some help. If not, we will enjoy our walk through the woods. You can play this game on all devices. So enjoy and have fun.
Also make sure to check Lifetime Adventure Game, you may enjoy playing it.