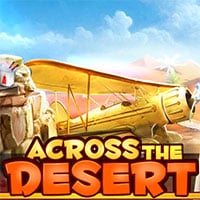 Across the Desert. When someone decides to become a pilot, he or she usually thinks about conquering the sky and flying all the time but being a pilot could also be a very noble profession. Amanda for example is an experienced pilot and an experienced rescuer. In her long career she has saved over hundred people that lost themselves in the desert. We all know that many people decide to take a holiday in this kind of place and the desert seems like eternal space and people tired from the sun often lose themselves there in case they don't have a proper guidance. On the other hand, people who live around the desert also could get in to trouble and Amanda is always here to help. By flying she has a great perspective of the whole desert so she could see very easy who is asking for help.
Today Amanda has a little bit different case. Namely, she got a call for rescue of a tourist who has entered deeply into the desert with his jeep. This man entered into the dessert and every trace of him is lost, as he wasn't there at all. Amanda usually has some kind of trace but this time she starts from zero. She accepts the challenge and starts flying over the dessert.
After a certain period of time Amanda sees the jeep but she can't see the lost tourists. This is the first trace so far so she lands near the jeep and starts her investigation.
Across the Desert is a free online hidden object game on Hidden4Fun.