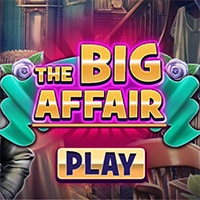 The Big Affair Game: Maybe it is about a huge fraud, or maybe mister Larry has made something wrong that lead him into this unpleasant position. Namely, mister Larry is the director of one of the biggest banks in the state. That means that he is supposed to have a lot of money and power, but somehow things went wrong. All of a sudden, mister Larry has lost all of his stock in the bank, in a mysterious way. Out of the blue, mister Larry doesn't have any power on the board of directors! This came totally unexpected. So it is up to the experts to find out what is hiding behind this situation.
The detectives Samuel and Emma, together with the team in The Big Affair Game, come into the apartment that belongs to mister Larry. The professionals will look for some evidences that will help them find out something more about this fraud. Is mister Larry just an innocent victim of someone's wicked plan. Or there is something more about this case, that is still unknown?! Let's work together on this criminal case and find out the truth about the bank director who has lost everything. You can play this game on all devices. So enjoy and have fun in playing The Big Affair Game.
Also make sure to check out Mysterious Affair Game, you may enjoy playing it.