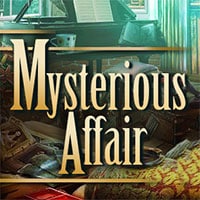 Mysterious Affair. What about some mystery for today? Put your self in some other people shoes, and not usual kinds, but detectives. For those of you who love crime TV shows and crime movies, we are sure you will love this game. Go back to the movies where authors of crime novels and stories end up finishing their lives the same way as their main characters, their heroes. Isn't that provocative for the day?
There are always some signs that murderers leave so that smart detectives can find the guilty man. Detectives Gary and Amy are situated in the house of the famous crimе novels writer Brandon Carter. He is found dead in his house and was killed the same way as in one of his books.
He was poisoned with his favorite drink and that is whiskey. Detectives want to find out the killer and the investigation can begin. A lot of his fans are sad that their favorite writer is gone forever. But,his books are here and what he has created. And here you come on board, our player. It is the perfect day to be a detective, don't you think?
Mysterious Affair is a free online hidden clues game on Hidden4Fun.