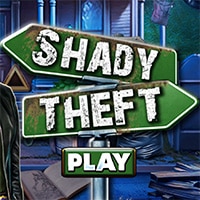 Shady Theft Game: Unfortunately, robberies are an inevitable part of our everyday life. Crime reigns supreme regardless of all attempts by the police to stop all those who engage in illegal activities. It seems that the drive to obtain and acquire material goods the "easy way" is so tempting that the police are constantly busy. Detective Jessica and police officer David are called to Mr. Brad's house in Shady Theft Game. The reason they are there is the robbery that happened the day before. In that theft were stolen items that only Brad and his closest people know about.
Hence arises the question of who is behind this robbery. Are the robbers Brad's close people, or did the thieves accidentally come across these items and steal them?! Detectives are at the crime scene to find as many clues and evidence as possible that will lead them to those who committed the crime. Let's explore Mr. Brad's house together with Detective Jessica and police officer David. And try to find answers to what happened in his home last night. You can play Shady Theft game on all devices. So enjoy and have fun.
Also make sure to check Cargo Theft Gang Game, you may enjoy playing it.