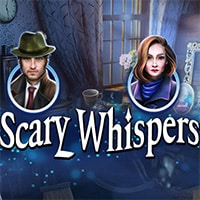 Scary Whispers Game: Detectives definitely have hard and responsible job. From their investigation and their attention while working, including the ability to notice details, depends someone's life. We are talking about the life of the victim. But also about the life of the suspect because if they miss certain evidences, a criminals could stay free, without the deserved punishment. We are in a middle of a real crime investigation. Sandra, who is a detective, is at the place of the crime scene, together with her colleagues and close friends, Mark and Emily. They actually visit the house where the teenager Alice was seen for the last time. At the moment, Alice is considered to be missing in Scary Whispers Game. So Sandra decides this this will be the starting point for the investigation.
Because this case is rather delicate, the team of detectives could definitely use some help from us. Let's work together with Sandra and her colleagues and try to find the answer about the missing of this young girl before something bad happens. Let's hope that she will come back home, healthy and safe. You can play this game on all devices. So enjoy and have fun in playing Scary Whispers Game.
Also make sure to check out Whispers from Beyond Game, you may enjoy playing it.