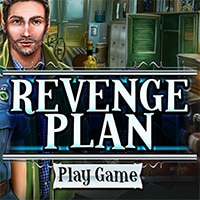 Revenge Plan Game: Working beyond ones capacity and strength can often lead to deteriorating health, especially mental health often translating into self-harm. That is how the scarred body of Lauren was found. She worked as a secretary for her boss Mr. Peter for a very long time. She was described as a very hard-working, professional and yet modest person, never showing signs of fatigue or sadness. But everything seems to have changed this week, at least that's how her fellow co-workers and boss describe it.
The employees reported that she had been acting very strange and unusual to her typical behaviour, but those allegations are denied by her parents. After all, the parents are the people that raised her and know everything about her. It's up to the detectives and the police to uncover whether the death of Lauren was a suicide or murder. Will they be able to find evidence that contradict the statements given by the employees and their boss about her behavior ? Let's find out. You can play Revenge Plan game on all devices. So enjoy and have fun.
Also make sure to check Revenge Love Game and Death in the Clouds Game. You may enjoy playing them.