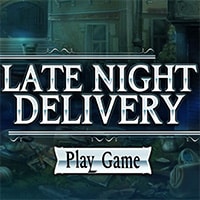 Late Night Delivery Game: Detective Nathan has a new case in front of him. This time it is about a case that includes illegal smuggling of untested drugs. In other words, drugs that are not still tested for their safety, but have shown certain good results that are not completely approved by the authorities, are placed on the black market. And even though there are no permissions for trade. Those drugs are available, of course, if you have the right people!
The detective arrives at the place where, according to him, the smugglers should make a delivery of the illegal drugs, late in the night. His task is to find those smuggled drugs. And find out who is responsible for the whole process of illegal trade. How did those drugs come out of the laboratory? Are the scientists and the pharmacologists responsible for this or someone has simply stolen the drugs and offered them on the black market? We could see how the real detectives work and try to find the drugs, together with detective Nathan. Maybe we will learn something more about the detective work. You can play Late Night Delivery game on all devices. So enjoy and have fun.
Also make sure to check The Secret Club Game, you may enjoy playing it.