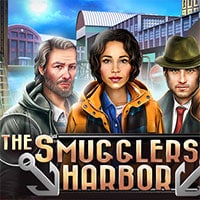 The Smugglers Harbor Game: Smuggling is the word used to describe the illegal transport of objects, substances, information or people. For example out of a house or buildings, into a prison, or across an international border, in violation of valid laws or other regulations. If the laws are broken, that means that we are talking about real criminal. Not just smuggling chocolates in our room, in case that was forbidden from our parents, which is a very serious things. Martha and Roy are owners of one of the harbors in the state where they live. Lately, their harbor has been used very often for smuggling some stolen objects. Knowing that something like this happens and not reporting it to the authorities. That means taking part in the whole procedure, in some manner.
Not wanting to be part of this criminal, Martha and Roy are rather upset about what's going on in The Smugglers Harbor Game. They call the famous detective Harry and together start a search for the stolen objects that is planned to be smuggled on the harbor. That way they will catch the smugglers too. And they hope that this whole thing will end up completely, in due course. It is not just about good reputation but about moral and social responsibility. The detective Harry might be enough for this job. But they could all need some help from outside when it comes about chasing criminals, that is for sure. Let's help them find the smuggled objects and catch the ones that are responsible for all of this. You can play The Smugglers Harbor game on all devices. So enjoy and have fun.
Also make sure to check Smuggler's Voyage Game, you may enjoy playing it.