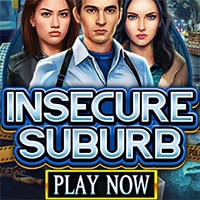 Insecure Suburb Game: Lately, many robberies have been reported at the last bus station in the city. The victims are people who have just arrived at the station and this happening is not just an incident. But something that started happening very often. The suburb that was once a nice and quiet place now became a place where it is unsafe to be or live. The three detectives, Sandra, Edward, and Amanda, got to the notorious bus station with the single aim to gather pieces of evidence. And find out the persons who are responsible for the robberies and who spread fear in this suburb.
Their task maybe not that easy, but it's definitely something that everyone living in that neighborhood will appreciate, and it goes the same for the passengers too. Let's check out the whole situation. And try to help the detectives find out the criminals who operate at the bus station. They probably know their job well. They are aware that the police will try to find them. But our team is so good that very rarely happens to him to make a mistake, almost never. You can play Insecure Suburb game on all devices. So enjoy and have fun.
Also make sure to check Hidden in Suburbia Game, you may enjoy playing it.