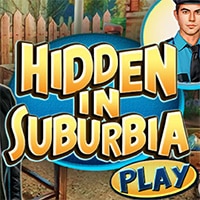 Hidden in Suburbia Game: Detective Amber and Officer Roy arrive in a small suburb, working on their new case. At the center of their case is a dangerous man, but a man with a changed identity who is difficult to find or catch. And that's why this investigation lasts so long. They assume that the country's biggest banknote counterfeiter is living in this small suburb. But he is hiding under a false identity. The real name of this man is Philip, and he was sentenced to 20 years in prison, but he managed to escape. After the escape, he changed his identity, and now, all traces of him are lost.
In Hidden in Suburbia Game: Amber and Roy have been looking for the accused for a long time, several years. But this time Amber believes that she managed to track him down. Maybe they are on the right track, but let's try to help them because this is a rather complicated case. Let's follow the traces and hope that we will find that man, despite how skillfully he hides his identity. Let's begin with the investigation and find out what will happen next. You can play Hidden in Suburbia game on all devices. So enjoy and have fun.
Also make sure to check Suburban Crime Game and Suburban Community Game. You may enjoy playing them.