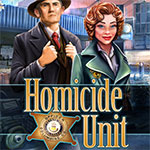 Homicide Unit Game: Suicide or a murder? Very often this is a dilemma for the investigative policemen, for the detectives that work hard on this complicated cases. Though common people would accept one answer when it comes to this dilemma, professionals actually have answers and know what details to pay attention to so they would solve some complicated case.
When money and interests are in the game than very often criminals happen because filthy money are in game. How many times you have asked yourself, why they don't kill some poor man (except by accident)? Because they can't take anything from these people. Our detectives in today game have a difficult task. Megan and Roger are the main detectives in Homicide Unit.
At the moment, they together with their team are situated in the factory which is owned by businessman Terry. This same evening he has been found dead in his office. The hard working detectives are here with one unique goal and that is to enlighten the case. Their goal is to find out who lies behind the murder. Enjoy and have fun in playing Homicide Unit Game.