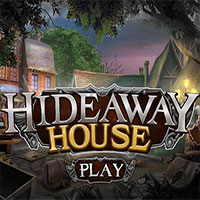 Hideaway House Game: We are all aware that being a police officer is a very responsible job, actually one of the most responsible jobs ever. Those people do their best to keep us and our families safe. Many times they risk their lives in order to accomplish certain mission and catch some criminal. But that is just part of their job which means that they have agreed on that when they decided to choose this kind of a profession. Practicing a lot at first then working a lot once they find their job. That's how their professional life goes but it is rather grateful job which means all that effort is justifiable.
In Hideaway House Game: Sarah and Brian are police officers that work in the Burbank district. They know their job really well but also they know their neighborhood. So they don't allow many criminals to operate there and disturb the people who live there. However, they receive information that three of the most wanted criminals in the state are hiding exactly in their district. There hasn't been something like this in this neighborhood before. So the police officers are rather concerned about the people who live there. They will have e to be even more effective and solve the case as soon as possible. Those police officers start their investigation right away, getting to the possible hideaway of the criminals. It is about a suspicious house that needs to be explored right away! You can play Hideaway House Game on all devices. So enjoy and have fun.
Also make sure to check Princess Hideaway Game, you may enjoy playing it.