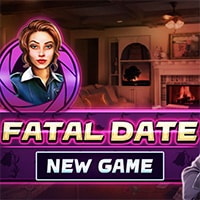 Fatal Date Game: Yes, we have to admit that many of us started to believe that the social networks could be an alternative for some aspects of life. It is quite certain that many of us find work on those networks. Many of us find friends and entertainment, but it happens to forget that the personal contacts are the ones that rely on trust. Trust that can be gained only by getting to know things in person… Detective Richard and policewoman Betty arrive at the place of the crime scene. Once again it is about a rather delicate case that includes a murder of a young woman.
In Fatal Date Game: The authorities arrive in the house where last night was found Sandra's dead body. They start the investigation with aim to find out what happened there. Unfortunately, there are not many evidences, except the fact that Sandra was very active on the social networks lately. Actually, it was more about dating sites where she was finding candidates for blind dates. Unfortunately, even though those dates are meant to be fun, some of them was fatal for Sandra. You can play this game on all devices. So enjoy and have fun in playing Fatal Date Game.
Also make sure to check out The First Date Game, you may enjoy playing it.