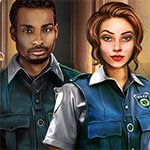 Faraway Cousin Game: Criminals use different excuses when they like to commit the crime. Very often they choose to change their identity, presenting themselves as some other person. Usually they choose persons that seem to easily likable, a person that could become close with the victim very fast, someone that shares same values and interests like the victim and so on. That is all done in order to get closer to the victim or the place where the crime will be done.
In Faraway Cousin Game: The police officers Margaret and Kenneth arrive at the place of the crime scene. It is about a house where has been a murder. Miss Emily was murdered there so now the officers like to find out who is the murder. It seems that the only proof about this case is the fact that few days ago someone knocked on miss Emily's door, introducing himself as her distant relative. This man was completely unknown for Emily. So she refused to let him in the house, telling him that she doesn't know him. Margaret and Kenneth are here to find out the truth and find out who is responsible for the terrible crime. Let's help them detect if there are more evidences for solving the case. Enjoy and have fun in playing Faraway Cousin Game.
Also make sure to check out Secrets and Lies Game, you may enjoy playing it.