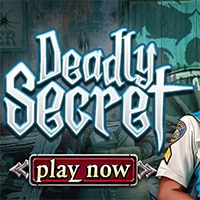 Deadly Secret Game: Even though museums are usually well secured, sometimes it happens for them to be a target of the criminals. Namely, all museums are shelters for many valuable objects. Some of them are important for the history, like material witnesses of something that happened many years ago. Some of them gather valuable works of art, others present the findings related to the natural sciences and so on. Unfortunately, very valuable diamonds are stolen from the National Museum. Those diamonds were kept really well, but the criminals have somehow managed to get them.
The policewoman Margaret and the policeman Donald are in charge of this case in Deadly Secret Game. They searched the place of the crime scene and started following the traces. The traces have led them to an old, abandoned factory, located outside the city. Now it is time to search through this place and see if there is something related to the case. Maybe we will find the robbers or even the stolen diamonds. Let's start right away and find out what is this robbery about. You can play this game on all devices. So enjoy and have fun in playing Deadly Secret Game.
Also make sure to check out The Secret Museum Game, you may enjoy playing it.