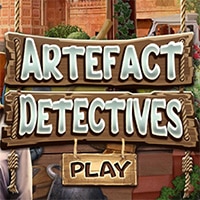 Artefact Detectives Game: The two detectives, Lisa and Paul, have enough experience dealing with artifact smugglers. During their career, they have also managed to learn the basics of the history of art. So they know which works are originals, which works are copies and so. They have learned the smuggler's profile as well, so they recognize him or her, once they notice their behavior. Those are the skills of real professionals and Lisa and Paul have them, that is for sure. Today in Artefact Detectives Game, the detectives Lisa and Paul come to India. There has been stolen a very rare and very old collection of elephant figures.
You know that elephants are considered to be sacred in India, and those figures are made with a lot of attention, from precious materials. And, the fact that they are very old, makes them even more valuable. The detectives start their investigation and who knows where will the pieces of evidence take them, having in mind that they are in a new and not that familiar region. Let's help them catch the smugglers once again. You can play Artefact Detectives Game on all devices. So enjoy and have fun.
Also make sure to check Air Detectives Game, you may enjoy playing it.