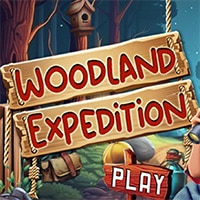 Woodland Expedition Game: Emily and Brian are two adventurers who have conquered many mountain peaks so far. It's their passion, and they love to do it. However, at the same time, they are also very aware that their feats are not something that could be done just like that. So they regularly exercise to be in good physical condition. This time in Woodland Expedition Game: Emily and Brian, along with their friends, have a new challenge ahead of them. They arrive together at the mountain. But where they will spend the night before leaving to conquer the highest peak of this mountain.
The road to the top of the mountain is quite long. So they will have to spend the night here, rest, and then continue. Let's see how the preparations of the team of mountaineers are going, and learn what needs to be done so that the conquest of the peak goes smoothly, without any accompanying problems. This move is a really big step for them in Woodland Expedition Game. So they have to be extremely well prepared, in top physical condition and rested for everything to go smoothly. Let's see what conquering a mountain top looks like. You can play Woodland Expedition Game on all devices. So enjoy and have fun.
Also make sure to check Missing Expedition Game, you may enjoy playing it.