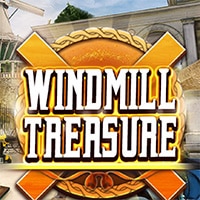 Windmill Treasure Game: There are numerous stories about hidden and lost treasures. Usually, we take those stories as simple legends, not as anything that might be true, but sometimes it could be worth trying… Pamela and some of the other people who live in the same village know the story about the abandoned windmill. This windmill supposedly hides a treasure that hasn't been found for many years. One day, Pamela finds an old map where is marked as the place of the hidden treasure. That's when she started looking for the treasure and she believes that she will be the one that will find it. However, the whole story about the treasure is rather uncertain, so no one knows what will happen in the end.
Now let's see what is this map about and try to find the windmill treasure, together with Pamela. Maybe this search will be hard or maybe the treasure is not hidden that well. Maybe it was just in front of the eyes of the people who live in the village, but no one believed that it is that near… We will follow the map together with Pamela and see where will it take us. You can play Windmill Treasure game on all devices. So enjoy and have fun.
Also make sure to check Windmill Village Game, you may enjoy playing it.