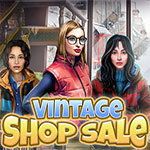 Vintage Shop Sale Game: Saving the old things and giving them a value is something that certain people pay attention to. What for someone is a bunch of old things that should end up in a garbage, for someone else actually is the right thing to have. And than, no heart feelings. Maybe it is the best thing to pay attention and consult someone who comprehends these things, before you go throwing something away.
There are thousands of small antique stores in the world where you can find a little fortune. There are three ladies that love antique things. For more than ten years they are dealing with such stores and products. The first years it wasn't so successful, but in the late years, they are pretty popular.
Karen, Susan and Donna are retailers in 'Vintage Shop' in a small American town. They have a big sell of antiques. You, our dear player, will have the role of a buyer. Now, even though you might not like the idea of buying and having antique things. Put yourself in a situation that this is going to be important thing for the day. Enjoy and have fun in playing Vintage Shop Sale Game.