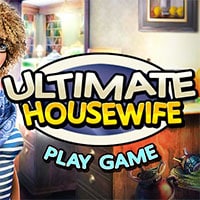 Ultimate Housewife. Meet Doris. While other women say that they don't have time for anything, that they are always busy and they can't find enough time for themselves, Doris manages to do everything successfully. Doris is working mom and she spends a lot of time at work. She loves her career and she likes to be successful in it. That is something that makes her happy and very satisfied so she has always been a hard worker.
On the other hand, Doris is very dedicated to her family. Besides her work, Doris likes to spend a lot of time with the family – her husband and the children but also she likes to live in a clean and well organized home. Sometimes it is very hard doing all those things, coming back late from work and then taking care of the house but she does it with pleasure. She is never too tired to spend some time with the children, to prepare them fresh meals and clean the house so they could grow up in a healthy environment which makes her 'ultimate housewife'!
It is weekend now so Doris is at home. Doris likes her home to be clean so she has decided that this weekend she will work more on that. And since she could always use some help, you will have a task to help Doris organize the objects in the house. That way she could clean the house more in details and make it as clear as she thinks it's best.