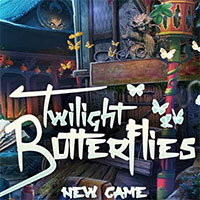 Twilight Butterflies. If you believe in ghosts, you're not alone. Cultures all around the world believe in spirits that survive death to live in another realm. In fact, ghosts are among the most widely believed of paranormal phenomenon. The idea that the dead remain with us in spirit is an ancient one, appearing in countless stories, from the Bible to 'Macbeth'. It even spawned a folklore genre: ghost stories. Well, today we gave a ghost game.
Lin is a young woman who lives in a small mountain village in China. In the surroundings of her village there is a temple that rarely anyone dares to enter after the sun has gone down. After sunset the night butterflies appear that do not allow people to enter inside the temple. Lin believes that the butterflies are ghosts of her ancestors.
Who doesn't want to believe that our beloved but deceased family members aren't looking out for us or with us in our times of need? Lin truly believes she has to communicate with the spirits and that she has to make a pact with them instead of be scared of them. So, Lin begins her mission and she needs some extra help.