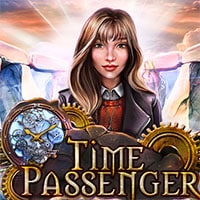 Time Passenger Game: Meet Ethel. This girl studies history because she has been always trilled by the past. But not as those persons who live in the past but more as a person that likes to explore the past, learn many facts that have happen that time and relate them with the present, with intention to understand the future better.
This girl has been reading so much and that's how she has learned many things. But she has never thought how it could be if she faces the things that happen in the past or the future. We are talking about events that are not related to her at all. But about events that are related to the human history.
Believe it or not, Ethel has found a secret portal in the university library. It was one night when she was learning as always when she suddenly saw an unusual object. She came closer to the object and she has realized that it is not something that could be of regular use. But it also wasn't a toy but a real time travel machine! This girl could not believe that something like this is happening to her. She felt incredible excitement because now she could witness many events that she read about in her books!
Ethel starts exploring the machine right away but she has to be very careful because if someone realize what is she doing, that could possible change the whole history and the present we are living in at this moment. You can play Time Passenger game on all devices. So enjoy and have fun.