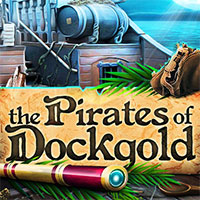 The Pirates of Dockgold. Lisa is an adventurer. She is a type of person that is always in a search for something new and exciting. That is the reason why she travels a lot and visits exotic places all around the world. While most of the people usually go for visiting regular touristic places, famous locations that are suggested to be visited, Lisa likes to be at places no one has been before. She likes to be the first that sees something and the first one to discover something new.
This time, Lisa's unsettled spirit has taken her to the island Dockgold. Actually that is the place for her hew mission and she starts her mission right away, once she arrived at the island. As the stories say, in the past, this island used to be completely inhabited by pirates. Pirates traveled all around the world, looking for adventure and of course, treasure, but this place was some kind of a settlement for them so that's why many of them had chosen this place to be their home. That means that the pirates actually kept their treasure there.
The collected it all around the world, getting it on many different ways, but they had to have a place where to store it. It seems that this place hides an incredible treasure, so let's hope that Lisa is between the first people that have visited the place so far. Lisa came to the island to explore and collect valuable items which used to belong to the pirates, so let's look around together with her and see what is hiding there.