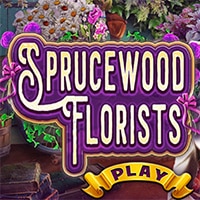 Sprucewood Florists Game: Opening a new business is always challenging. But also it is a very nice thing, especially if you love what you are doing and you are not doing it just for money. When you do something with love, you forget that it is your actual job. And you invest every piece of you into that job, pushing your creativity to the highest levels. And that's when beautiful things happen, that's what makes a perfect business. Isabella and her friend Olivia, are just a step away from their perfect business.
The two of them have decided to open a flower shop in the small Sprucewood Town near the forest. Isabella and Olivia were thinking about where to locate their flower shop and they have chosen that exact place because they thought that the place was very pale and dark on its own. They have decided to liven up the place and the people who live around with a colorful flower shop. They believe that they will be able to refresh the place by becoming the Sprucewood Florists and their job will be a combination of pleasure, work, and socially useful work. Let's help them get ready for their grand opening. You can play Sprucewood Florists game on all devices. So enjoy and have fun.
Also make sure to check Little Flower House Game, you may enjoy playing it.