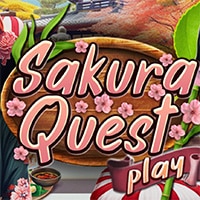 Sakura Quest Game: Meet the young Japanese girl Asuka who will be our main character today. This girl wants to know more about her ancestors and her past. She arrives at Sakura Valley where her ancestral village is located. Hana, who is her distant relative, still lives in this place. Asuka asks Hana to help her with her mission. She wants to study this region well, but she also wants to find the objects that belonged to her grandmother.
In Sakura Quest Game: Asuka believes that if she gets these objects, she will be able to learn something about her grandmother. But also something more about her ancestors and her roots. Sakura Valley hides many things that interest young Asika, and with Hana's help, she will find out a lot of things. Let's join this interesting journey and learn new things. We will visit the Sakura Valley, but we will also learn many things about Japanese culture and its main landmarks. It's time to start this unforgettable journey right away. You can play Sakura Quest Game on all devices. So enjoy and have fun.
Also make sure to check Gym Quest Game and Zoo Quest Game. You may enjoy playing them.