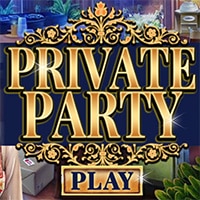 Private Party Game: Alice is a great cook, actually, it is believed that she is one of the best cooks in the world. That's why she became very popular over the last few years. All her clients know that she makes perfect dishes for every occasion. And for every cooker, cooking for someone important or a celebrity is a great way for self-promotion. Usually, there are many people at the events organized by those people, which is a great way to get new clients.
Alice, together with her assistant Edward, has been chosen to prepare the dinner for a private party organized by one of the most famous Hollywood couples. They are making a party in which they invited their closest circle of friends. This party is very important for the organizers. They live everything to be perfect when it comes to the food. On the other hand, even though Alice and Edward are very experienced cookers. This will be one of their hardest projects. That's why they will need some help from us, so let's see what can we do to help them. You can play Private Party game on all devices. So enjoy and have fun.
Also make sure to check Deadly Party Game, you may enjoy playing it.