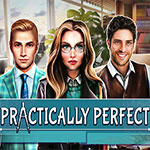 Practically Perfect Game: Dulce and utile is the term used in Latin to describe something that is sweet but useful at the same time. That would be something like the perfect match and we may say that it is eligible for everything around us. And even though sometimes we may think that something is perfect. Just because it looks perky or attractive, the professionals might not agree with us. For example, we think that the amazing t-shirt in the shop window is great for us. But we simply don't have the right body type for that piece, so the shop-assistant should warn us about it. Or certain attractive piece of furniture, might not be the perfect choice for our apartment. Even though it might be with a great design and quality…
In Practically Perfect Game: Edward, Cynthia and Gary are three excellent apartment designers. Today they have a task in front of them, to design the apartment of one of their clients. The difference between people who are educated in design and those who like 'beautiful things' is that the first ones know the exact rules of interior design. The three designers have to find the objects that are placed on a wrong place and finally, make the apartment perfectly functional. Enjoy and have fun in playing Practically Perfect Game.
Also make sure to check out House Renovation Game, you may enjoy playing it.