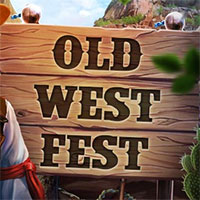 Old West Fest. We can't say that we are not impressed by the era of the cowboys. Those brave men who rode along the prairie, looking for justice… At least they were described like that in those western movies and books, even though in real life they were little bit different. They were actually animal herders who tended cattle on ranches in North America, traditionally on horseback, and often performed a multitude of other ranch-related tasks. However, some of them participated in rodeos or developed roping skills. And all those skills together are added to the cowboys of the movies, while each one of them lives his own story.
Tom is one of the main organizers of the festival that celebrates the cowboy culture, known as Old West Fest. This festival is annual and Tom gets new fans and entrants every year. During the duration of the festival, everyone acts like before hundreds of years. All participants in the festival are dressed in cowboy costumes and live in cowboy style. If you walk through this place during the festival. You will definitely feel as you are stacked in some distant time that differs completely from our life and our modern living today.
Besides this, the festival also includes a game with hunting cowboy objects. In this part all participants compete against each other in finding those objects which are hidden really well. You could also take part in this festival by searching for those objects. Enjoy and have fun in playing Old West Fest Game.