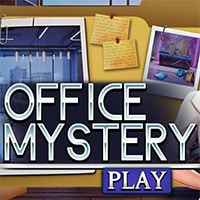 Office Mystery Game: Something strange is happening in the office where Jane and John work. Jane is a secretary and John is the owner of the company where they work. Their work was always going well, but lately, something started happening in their place. Jane is a very organized person and puts everything in the right place, and the rest of the employees in the office behave similarly. And that is exactly why what is happening in the office seems very strange to them these days. Namely in Office Mystery Game: The employees of this company face the mysterious disappearance of important documents from their offices.
They are determined to do something together and finally solve this problem. Jane and John, along with the rest of the company's employees, stay after hours to try to find some evidence, some clues that would finally explain the disappearance of their documents. Let's see together with the employees what is happening in their offices and who steals them. Or maybe just hides their important documents and why he does it. You can play Office Mystery game on all devices. So enjoy and have fun.
Also make sure to check Brand New Office Game, you may enjoy playing it.