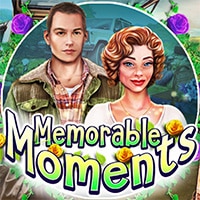 Memorable Moments Game: We all have some unforgettable moments, spent with our parents, many years ago. Usually, it is about memories that remind us of something that we did on regular bases. Like holidays in the village, picnics on some special place in nature, camping in the woods, and so on. When we get older, and when we have kids on our own, it comes naturally to wish to make that kind of memory with the new family, too. In Memorable Moments Game: Richard and Susan, together with their two small kids, decide that this weekend will be perfect for a picnic somewhere in nature.
They remember that when they were small, they also used to go on a picnic in nature with their parents. Those moments have been carved in their memory so strongly. They like to offer their own kids the same – to offer them unforgettable moments from the family picnic. Let's see how will Richard and Susan spend the weekend with their kids. Maybe you will get an inspiration to do something similar and have a great time with your family. You can play Memorable Moments game on all devices. So enjoy and have fun.
Also make sure to check Precious Moments Game, you may enjoy playing it.