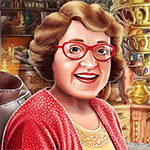 Mary's Cookbook Game: We don't live lives that long, don't we? We would love to be eternal, to live mark with what we work, what we actually are and do. We get the picture that if you live with hundred per cent of energy, dedication to the family and thing you love, than you will counter fight death for sure.
And what use of one master if he doesn't give his/her knowledge to the students, to young people, than we are not talking about the best master. You are going away one day and your knowledge gets lost. It is not the case with the star of Mary's Cookbook Game. This lady loves to spend time in her kitchen. She loves to impress close people, friends and families always by preparing the best meals in the world. Those are tastes that people remember in a life time and they want to return to Mary's house.
Mary is quiet an experienced chef. She would love to transfer her knowledge and skills in the kitchen to her children. For today they have decided to cook the best recipe from Mary's cookbook. And now she needs certain ingredients to get that meal. Let's find it and help Mary. So enjoy and have fun in playing Mary's Cookbook Game.